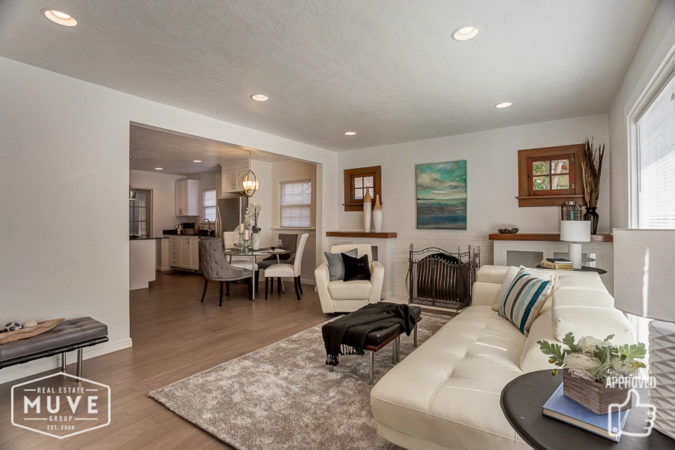 Of all the home improvement projects one can do (and there are a lot), when it comes time to sell which improvements make a house sell faster?
Home improvement projects that make the house sell faster come down to three simple things: Paint, flooring, and light fixtures. If you update these things, you'll spend relatively less than undertaking a mass remodeling project.
Paint can instantly update a tired old space and make it look, feel, and smell like new again – especially if the walls were covered in wallpaper.
The same goes for flooring. Wood flooring that's scratched can be refinished with a top coat for an instant shine. If you have outdated, stained carpet it's best to get rid of it and replace with a more affordable material.
Light fixtures are an easy way to tell if the home has been maintained throughout the years and can show the home's actual age. So, if you have older fixtures, spend some money on replacing them.
Have a some money to spend on a more elaborate remodel? Which DIY projects increase the home's value the most?
If you have some money to spend, I'd say make sure to update the kitchen, then the bath, and then curb appeal. The kitchen, as we know, is the heart of the home and it should feel light, bright and spacious with updated appliances and countertops. Most bathrooms get used and abused. They should look white glove clean, so replace old tile, vanities and tubs.
Curb appeal and adding landscaping can give you a 215% return on your investment. This is an important area because it's the first thing buyers will see and sets the tone of what to expect inside.
What are the best paint colors for selling a home? Do you have any go-to-favorites?
It's important to stick to neutral tones on your walls, unless you know your particular buyer will like a splash of color. You find this out by researching your neighborhood and putting together a buyer profile. Bright white, light and neutral palettes are in right now
1.Halo, it's from Benjamin Moore's off white collection and it's not only sophisticated but has endless possibilities when it comes to playing up other colors. This color is so versatile…
2. Benjamin Moore Silver Fox – it's not really silver, but actually looks more like a gray-beige which is a good color combination to use in a room that you want to feel warm and cozy. When you put this color on your walls it's almost as if you're wrapping a blanket around you, so get comfy.
3. The next color is a blue gray and its called Eternity from Benjamin Moore. I absolutely love this color and I've recommended it at least a dozen times to use in bathrooms, bedrooms, and even family rooms. It's in my bedroom now and it's a great color because it changes depending on the light being reflected. It's a great color for southern facing rooms.
If you have a kid's room painted in blue or pink or purple is that a turn off to potential buyers?
Kids' rooms are usually secondary rooms to be staged and don't affect the sale as much so you can have colorful kids' rooms — unless the color is making the space look smaller than it actually is. At the end of the day we want to showcase maximum square footage. If you have a darker color on the wall, make sure the furniture and accessories in the room are light and bright.
What are some of the simplest ways to elicit a positive emotional response from potential buyers?
It's okay to display moments in time that the buyer can emotionally connect to. So maybe it's showcasing a place to entertain a sports fanatic in the basement or where you can spend time reading to a child. Buying a home is an emotional experience. Your home doesn't have to be completely sterile and void of emotions.
Buyers like to envision themselves in the space and are really looking for how they'll utilize it, so try to physically display these moments. Overall consider the buyer. Would the buyer want to step over your mess on the floor to see the bathroom? Or see your dirty dishes? Be considerate of their time and have clean, organized spaces that they can actually consider living in and that will instantly put them in a better mood as they tour your home.
We all have our personal styles when decorating our home but are there certain styles of decorating that sell better?
The design style of your home depends on the architectural style of the space, what you already have in the home, and what your buyer would like. It's usually a combination of styles because you need to stay true to the home's architectural style. The overall design style that sells better is transitional because it mixes the traditional with modern/contemporary style.
How important is curb appeal? Do you have any tips for increasing curb appeal?
First impressions can make or break a sale, and curb appeal is the first impression being made with the buyer so it is extremely important.
Curb Appeal
Stay on top of your front landscaping, mow the lawn and trim bushes.
Power wash the home and sidewalks.
Add a welcome mat and potted plants around doorway.
Paint your door to update the look of your home, update the hardware.
Place a wreath or arrangement on your door.
Remove all toys, figurines from the front yard.
Clean all your windows.
Update lighting and house numbers. Make sure they match.
Repair the roof, gutters and update exterior paint if peeling.
When you go to sell a home do things behind closed doors (like closets and cabinets) need to be staged?
One of the first things buyers look for in a home is space, especially more storage space. It's ideal to go through all your closets, kitchen cabinets or any cabinets that are provided in built-ins. Buyers are nosey and they want to know what they're buying so focus on organizing and packing up items you won't need while on the market.
What would you like people to know about the importance of staging a home?
Today's home buyers are looking for move-in ready homes and that's what home staging does. It gets the home prepared for sale and the next homeowners. Home staging will help you stand out amongst your competition if you live in a competitive market. It also makes the home easier to market because it will provide amazing photos to show online, which is where most buyers go to search for their next home. Home staging can also get you more offers and can increase the price of the home or, at the very least, justify the price the home seller is looking for.